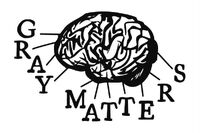 Gray Matters is a record label founded in 2007 by Jars of Clay members Dan Haseltine, Stephen Mason, Matt Odmark, and Charlie Lowell.
Artists Formerly Signed to Gray Matters
Edit
Ad blocker interference detected!
Wikia is a free-to-use site that makes money from advertising. We have a modified experience for viewers using ad blockers

Wikia is not accessible if you've made further modifications. Remove the custom ad blocker rule(s) and the page will load as expected.